Dutch Design Week in Eindhoven
Design: that is Italian cars, fashion from France and Scandinavian furniture. Something for the hip & happy few. The creatives and the people with money. Not a Dutch thing.
At least that's what I thought until a few days ago.
But as it goes, a friend had to give a speech during the Dutch Design Week (DDW) in October 2021 in Eindhoven. I happened to be nearby and curious. So, not hindered by any (design) knowledge, I visited the annual event.
Major all-encompassing themes during the DDW
At first, it looked like a rather depressing party. The major themes of the time: declining biodiversity, consumerism, climate change, migration, environmental pollution, urbanisation and artificial intelligence, were the most visible.
A future with big brother?
Some designs made me think that privacy is a thing of the past. For instance, the stand with a toilet automatically analyses your stool and forwards these data to a hospital.
Do you eat healthily? There may be blood in the stool. Are you drinking enough?
Big Brother knows it all, and just like that, the health insurance company has an opinion about this too. This medical assessment, no doubt, will be reflected in your insurance premium.
The gender gap in design
A guided tour made me realise that the influence of design turns out to be much wider than I thought. Or rather, I hadn't thought about it until now.
"Movies, news, literature, science, urban planning, economics, the stories we tell ourselves about our past, present and future are all marked – disfigured – by a female 'absent presence'.

This is the gender data gap.

These silences, these gaps, have consequences. They have an impact on women's lives every day. This influence can be relatively small – for example, difficulty reaching a top-shelf set to a male height standard. Annoying, sure. But not life-threatening.

Not like crashing into a car whose safety tests don't take a woman's physique into account. Or die of a stab wound because the police armour doesn't fit you right. The consequences for women living in a world built around male data can be deadly (source: the Guardian).
Radical inclusivity
Often the exclusion is unconscious. But people and animals can also be consciously excluded. For example, think of a bench designed so that you can only sit on it and not lie down. Thus, the homeless person will have to find another place for his night's rest.
Or an urban garden planned to make insects feel welcome with a bee hotel and a pond. Or a garden where hedgehogs can quickly get in and out through holes in the bottom of the fence. Unfortunately, many still choose to turn their garden into a low-maintenance tiled dead zone. Preferably with artificial grass.
How do we treat the planet, and how do we treat each other?
But there is hope. In these times when I despair for our children's future, I saw designers committed to the reuse of materials, bioplastic, the use of local resources, and a circular economy.
So yes, design is for creatives and people, or rather business, with money. But also for the rest of humanity. We all have to deal with it.
Choices have consequences.
Eindhoven, Dutch Design Week 2022
Make a note: October 22 to 30, 2022, is the next edition of the Dutch Design Week.
Put the week in your calendar, and don't act like me. Don't try to cram everything into one day. That's impossible. Instead, make it a week(end) away. A city ​​trip to Eindhoven is surprisingly fun. Visit the various museums included in the ticket. Enjoy the delicious food at the many international restaurants.
Practical tips
The most important tip is to join a guided tour. This will give you insights into the different projects from the designers themselves. It's going to be so much more alive.
But also take the time for a bit of serendipity. Stroll around, be inspired and be surprised.
Map out your route on the DDW website for exhibits you want to see.
With one ticket (price in 2021 was €21), you can visit the event at 100 different locations throughout the week.
All other DDW locations can be visited free of charge.
MINI's free taxis transport visitors (daily between 11 am – 6 pm) to and from each DDW site.
Book your hotel on time if you want a good deal. Thousands of visitors come to the event.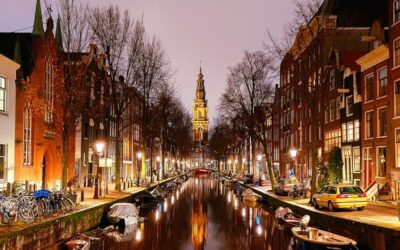 A Voyage through Amsterdam Is a canal cruise through Amsterdam super touristy? The short answer is a resounding yes! But is it fun? Yes, absolutely. Even for a seasoned Amsterdammer, there is no better way to see the city in a relaxed way than with a cruise through...
read more