Walking the Pieterpad
Hiking the Pieterpad, a long-distance trail (LAW 9), is fun for several reasons. First, because one walks with purpose. After starting it, you probably want to finish it. Experienced walkers can do this within two weeks. The more physically challenged, like me, probably take longer.
This long-distance walk of 498 kilometres (309 miles) runs from the southern Pieterberg near Maastricht to Pieterburen near Groningen in the north, hence the name Pieterpad. It can be done in 26 stages or more, spread over years, holidays or weekend trips. It is safe to walk alone, but it will be more fun with friends or family for most people. The Netherlands is a small and crowded country. You will never be far away from 'civilisation', 10 kilometres at a maximum. However, it will often feel like more; most of the trail is through forest and farmland. Although nearly all the path is flat, in the south, in the provinces Gelderland and Limburg are some small hills.
The route runs from north to south; we walked it the other way around. Or actually, we mixed it. Starting in the middle, we worked our way southbound and eventually walked north. That's the beauty of a long haul route; it doesn't matter how it is done. At least for me, the point was to finish the trail eventually.
Hiking the trail can even be combined with the less enthusiastic hikers. There are lots of activities and sights in the surroundings of the Pieterpad.  Thus, ideal if you like to go out together but don't necessarily want to do the whole trail together.
It is also possible, as we did a few years ago, to cycle the Pieterpad (or, more accurately, the Fietserpad, as it is called). However, you then deviate slightly from the original path because large parts of the Pieterpad are only accessible to hikers.
The Pieterpad route
The route is signposted with red/white markings. Signposting is excellent on some parts of the course, on others less so. However, with the help of a Pieterpad map and an app (see below), it is always possible to find your way.
Unfortunately, the books with the map are in Dutch, but, this should not be a problem for reading a map. You will need parts 1 & 2.
Order your Pieterpad Guide Part 1 here
Helpful Apps and websites
Various walking apps, such as route.nl,  detail all the different parts of the route and provide directions. Route.nl is only free for the first week, after that it costs ten euros per year. Nevertheless, the app is handy if you are unsure whether you are in the right place and at the start of the route if you are looking for the departure point.
Buienradar.nl is a weather app that tells you when and how much it will rain in the next couple of hours.
The public transport planner 9292.nl will help get you (back) to your starting point.
To find accommodation near your route, check booking.com.
Weather in the Netherlands
There is no such thing as bad weather, only bad clothing. Do bring lightweight rainproof gear.
Plan your trip and breaks with the weather forecast in mind. See above for helpful apps. With a mild shower, it usually suffices to take 5 minutes of shelter under a tree.
In the summer it can get hot and sunny. So wear a hat and suncream.
Clothing & footwear
Wear layers so that you can easily adjust the clothes to temperature differences.
Sport a fleece vest with a hat on top of a quick-drying t-shirt and pants.
Please do not wear jeans as they tend to irritate the skin.
Make sure you wear cotton underwear to avoid irritating elastic in your groin.
Wear seamless hiking socks to prevent blisters.
Put on sturdy, well-fitting water-repellent hiking boots with a thick sole. Always break into your new shoes before you start a long-distance hike.
Cap or hat.
What to pack for your long-distance hike
One of the keys to hiking happiness is minimal weight! That is a good and light backpack to prevent shoulder and back pain and too much sweating. Take a critical look at everything you take.
Leave at home
Loose coins for crossing rivers by ferry.
Unnecessary keys
Make-up
You will never be far from the next village, 10 kilometres at most. However, if you find yourself hungry, thirsty or in need of a toilet, that can be a two hours walk away. Furthermore, restaurants and shops en route might be closed during national holidays or specific hours.
Therefore
Do bring a
Bottle of water
Sunscreen
Light snacks: nuts and dried fruits are nutritious and weigh little. Chocolate is a quick pick-me-up, but it melts in warm weather.
A hiking map.
External battery (Power bank) to charge your mobile phone on the go.
Sunglasses, reading glasses.
Some toilet paper or tissues
Try to prevent blisters by breaking in your shoes beforehand and by wearing seamless hiking socks, but if you do get them, 'blister plasters work great.'
For overnight trips, pack the minimum toiletries.
 Include a solid shampoo and a quick-drying towel.
One spare set of clothes.
You might also be interested in: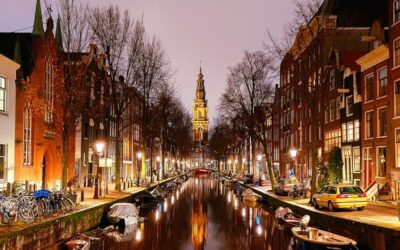 A Voyage through Amsterdam Is a canal cruise through Amsterdam super touristy? The short answer is a resounding yes! But is it fun? Yes, absolutely. Even for a seasoned Amsterdammer, there is no better way to see the city in a relaxed way than with a cruise through...
read more