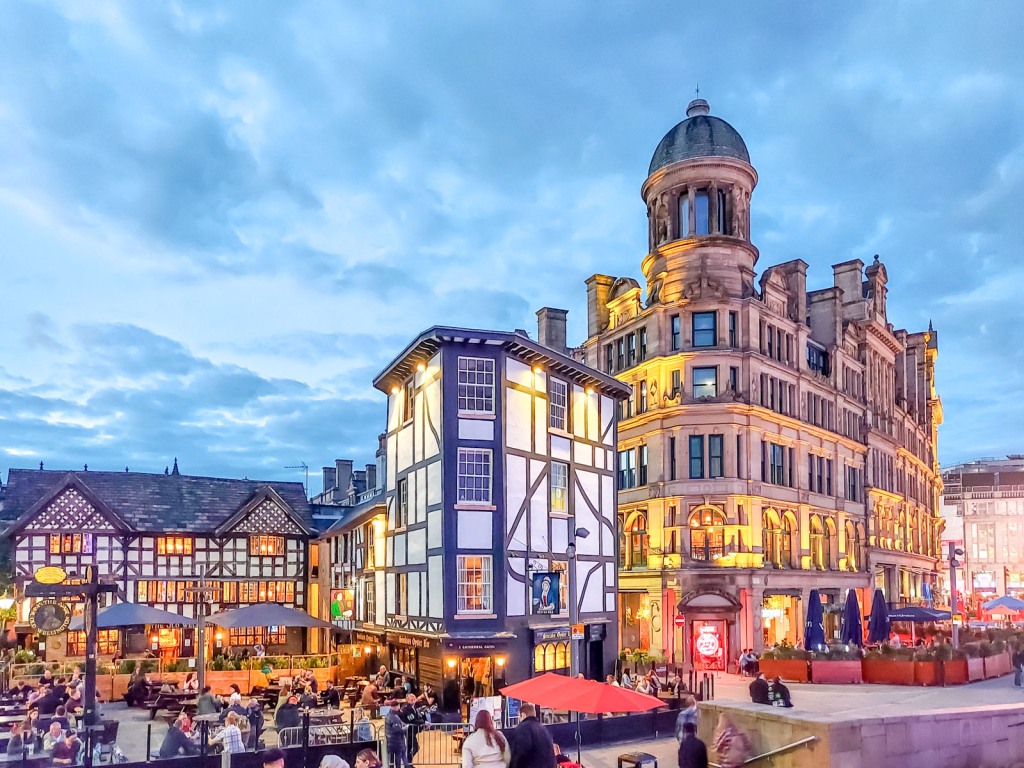 City trip to Manchester
Manchester, a city in the northwest of England, has many facades. Sparkling, edgy, modern and Victorian. Historic buildings and skyscrapers stand side by side whilst bleak suburbs surround the lively town centre. The nearby Peak District and Lake District only add to its appeal.
Mancunians
This is the city of the 'bee'. The symbol of the hardworking Mancunian. In this working-class city, the Mancunians, the residents of Manchester, have an extraordinary accent. Not quite the Queen's English. It takes some getting used to, and even then, it might be challenging to understand them. Especially if you are not a native speaker.
Despite the linguistic challenges, the variety of sights, activities and restaurants makes this a top-notch destination for a weekend away. After all, this is a Walhalla for the culture lover and, concurrently, a Mecca for football enthusiasts.
So even if your travel companions have entirely different ideas about fun and exciting things, you will have a great time. Treat your football-loving friends/offspring/partner to a Manchester City Stadium Tour and yourself to all kinds of grown-up things in the city listed below.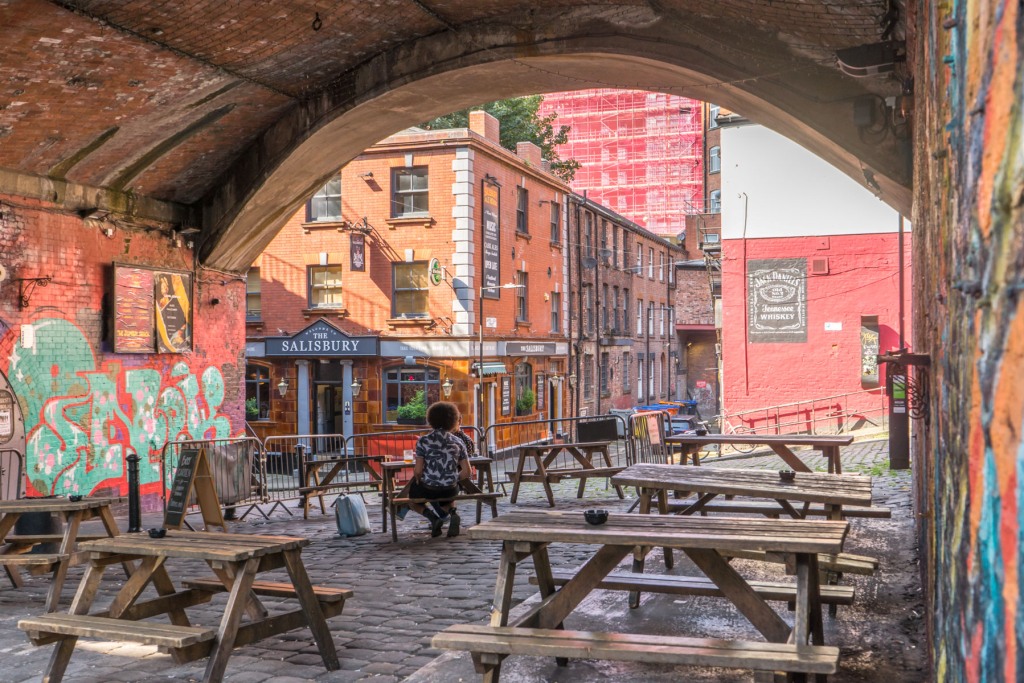 The Manchester Bees
Bees are everywhere in Manchester, on every post, building and bench. The bee of Manchester is a worker bee, reflecting a city made by the workers, created by the people. It is not a city that grew due to royal patronage or accessible natural resources. Mancunians have worked hard to make this place thrive.
The bee on street furniture has been around since the 1970s, but most bees are creations from the 19th century. Bee-watching is an excellent way to spend time in the city. When you walk through the streets, look up, look around, and see them everywhere.
The Manchester Matriarchy
Bees live in matriarchy. Worker bees are all female. The monarch is a female, and the males are thrown out of the hive after 'the deed'. That is why in Manchester, people often refer to the 'queen bee' with strong women such as Emmeline Pankhurst, Enriqueta Rylands and Dame Nancy Rothwell, to name just a few.
Discover Manchester's diverse architecture
Start your discovery tour with a walk through the centre.
Northern Quarter
Northern Quarter is a hip neighbourhood with boutiques, vintage shops, street art and cosy cafes. Some of the important streets and areas in this borough are:
Thomas Street is known for its independent shops, bars, and restaurants.
Oldham Street has a vibrant music scene, book and record shops and vintage clothing shops.
Church Street is named after St. Mary's Church, offering a mix of shops, eateries and art galleries.
Edge Street is home to the Afflecks Palace, an alternative fashion and art marketplace.
Stevenson Square is a central square often used for events and markets.
Tariff Street has vintage clothing stores, art galleries and eateries.
High Street is a historic street with several characteristic Victorian buildings.
Gay Village
Gay Village is the area off Canal Street on the Rochdale Canal with gay bars. The annual Manchester Pride Festival takes place here. In Sackville Gardens is the Alan Turing monument for the gay mathematical genius who deciphered enemy codes in the Second World War.
Kimpton Clock Tower Hotel
Castelfield, canal area
Castlefield is one of the quieter areas of Manchester, with canals, waterfront terraces and parks. The Science Museum is located here.
Other attractions include the ruins of the Roman fortress Mamucium, from which the town takes its name, and HOME. This arts centre shows films, exhibits and stages theatre performances.
John Rylands Library
This Victorian library has over 40,000 written objects, including many rare books and manuscripts. The library is named after John Rylands, an English businessman from the 19th century who made his money in the cotton and slave trade. His widow ordered the library to be built and the collection collected.
Adres: Deansgate Manchester
Kimpton Clocktower Hotel & Bar
This hotel is an iconic Victorian building, built in 1890 as "The Refuge Assurance Building." Visit The Refuge Bar & Restaurant and admire the eclectic style of Art Nouveau and post-modern interior with a dash of Jazz on top. It is a fantastic place for a Gin and tonic.
The Kimpton Clocktower Hotel is located on Oxford Street in the heart of Manchester.
Royal Exchange Theatre
The Royal Exchange Theater opened in 1806 as a commodity exchange in the heart of Manchester. In 1976, it was converted into a theatre. The remarkable thing about this building is that the audience sits in a circle around the stage.
If there is no performance, enter for free to view the building.
Address: St Ann's Square, Manchester.
Manchester Cathedral
Construction of Manchester's Anglican Cathedral began in the 12th century. This makes it one of the oldest buildings in Manchester.
The cathedral has various architectural styles, including Gothic and Gothic Revival, due to the multiple restorations and renovations over the centuries. It has beautiful stained glass windows, vaulted ceilings and an imposing tower.
Address: Victoria Street, Manchester. Entrance is free.
Victoria Baths
Victoria Baths are widely recognized as Britain's finest historic municipal swimming pool. But you'll need to plan your visit carefully to see the stained glass windows, mosaic floors, Turkish baths, and the three swimming pools. It is only sporadically open to the public. It is a Grade II listed building.
Check the website for opening hours.
Manchester football
The city has two major football clubs: Manchester United and Manchester City.
Old Trafford is the stadium of Manchester United. The stadium offers guided tours where you can visit the locker rooms, dugout, museum and other parts of the stadium. Plus, you can catch Manchester United matches if you visit during the season.
Book the Old Trafford Stadium Tour.
The Etihad Stadium is the home stadium of Manchester City. On a guided tour, one can explore the stadium and learn about the club's history. Attending a Manchester City match is also an option.
Book the Manchester Etihad Stadium Tour.
The Football Museum: as a hardcore fan, visit the National Football Museum. Admire memorabilia, trophies and information about the clubs' history.
Buy your tickets for the National Football Museum here.
The most exciting museums in Manchester
One of the most excellent things about visiting England is that most government-owned museums are free. Moreover, they must have a large budget, given the quality and care with which the collections have been put together. The museums are often housed in historic buildings.
Whitworth Art Gallery
The Whitworth Museum is #1 in my ranking of Manchester Museums. It is set amongst the greenery of Whitworth Park, which is part of the University of Manchester campus. The museum was founded in 1889 and has a changing program with works from its collection and works of art borrowed from other institutions.
A diverse and extensive art collection, including paintings, sculpture, textiles and decorative arts, is on display. The collection spans different eras and artistic styles, emphasizing modern and contemporary art.
The address is Whitworth Art Gallery, The University of Manchester, Oxford Road, Manchester, M15 6ER. Entrance is free.
Manchester Museum
The Manchester Museum is to Manchester what the British Museum in London is to England. It is possible to spend days on end here if you want to see everything the museums have to offer. The collection consists of more than 4.5 million objects, including Egyptian mummies, minerals, fossils, ethnographic artefacts, and more.
The museum also has art, archaeology, anthropology, natural sciences, cultural objects and a section with living animals, such as amphibians and lizards.
Address: University of Manchester campus, on Oxford Road, Manchester. Entrance is free.
Jewish Museum
The Manchester Jewish Museum is located in Cheetham Hill, a district in the north of Manchester. This museum falls into the 'small but nice' category. The museum is housed in the former "Spanish and Portuguese Synagogue" built-in 1874. The museum offers visitors a fascinating journey through the history of the Jewish community in Manchester and the United Kingdom. It features permanent exhibitions that explore various aspects of Jewish life and culture, including religion, immigration, family life and community contributions.
Address: 190 Cheetham Hill Road Manchester. Buying tickets at the entrance is possible. With a large group, it is wise to purchase them in advance.
Pankhurst Centre
The women's suffrage movement in Manchester was an essential chapter in the history of the women's suffrage movement in the United Kingdom. The Pankhurst family, particularly Emmeline Pankhurst, her daughters Christabel and Sylvia, and other relatives, were central women in the fight for women's suffrage in Manchester.
Emmeline Pankhurst founded the Women's Social and Political Union (WSPU) in 1903, an organization known for its militancy and public actions to draw attention to the cause of women's suffrage. The Pankhurst Center also hosts exhibitions and educational programs to promote the heritage of the suffragettes to keep even.
The Pankhurst Museum is located at 60-62 Nelson Street, Manchester. The building is small, and the number of tickets is limited. If you want to be sure that you can enter at a time of your choice, purchase a ticket in advance via the website.
Museum of Science and Industry
The Science Museum is dedicated to Manchester's industrial history, covering technology, innovation and industrial progress. Here, you can learn more about the Industrial Revolution, the cotton industry and Manchester's role.
Address: Liverpool Road, Manchester. Entrance is free.
Eat, Drink, Sleep in Manchester
Restaurants & Bars
Katsouris Deli is a (Greek?) restaurant near Deansgate, with friendly service. It's a great place to have a delicious and relatively cheap lunch or coffee here.
Lahori Butt Karahi is a Pakistani restaurant with friendly service and reasonable prices. It is located on Cheetham Hill.
Evuna is a Spanish restaurant and wine shop on Deansgate. It is advisable to make a reservation because it is busy here. Excellent Spanish food and nice wine.
Manchester Museum café is located on Oxford Street, offering delicious vegetarian options for lunch and coffee.
Kimpton Clocktower Refuge bar and restaurant is undoubtedly costly. It's a great location and has a jazzy atmosphere. The hotel is located on Oxford Street.
Piccadilly Gardens and the covered Corn Exchange are gastro markets. There is plenty of choice from the many food stalls.
Kimpton Clock Tower Refuge Bar
Hotels
Manchester has a wealth of hotels to suit all tastes and wallets.
Transport
Travel from London to Manchester by train takes two and a half hours. While from Birmingham you can travel to Manchester in an hour and a half. Or combine your visit with Liverpool, you can take the train there within 50 minutes.
You can order train tickets online here.
Public transport within the city is excellent. There is a choice of bus, tram or train on many routes. It is possible to check in and out with your bank card. Please note that the various transport services still need to be integrated, so you must buy a new 'ticket' whenever you change service.
In the centre there is a 'free bus', indeed a free bus service.
London is always fun, even for people with small wallets. Most museums and attractions are free. In addition, if you have a pair of functioning legs, you can see most of the centre on foot.
read more