City trip Porto
Porto is younger, poorer and more petite than her royal sister Lisbon. A city with a peeling charm, which has an alcoholic reputation. The party animal from the family of Portuguese coastal towns is called Porto and is situated just 315 kilometres north of Lisbon.
Drink Port
The city is best known for its famous wine: sweet ruby, vintage and tawn. Which tastes great as an apéritif, dessert wine, a nightcap, between courses, with or in the food. In fact, you can't go wrong with Port.
Thus, in our view, the ideal setting for a city trip. Especially when enjoying the sun on a terrace or exploring the vineyards in the Doura valley. However, our largely under aged travel group prevents such an alcoholic outing for the time being. Fortunately, the city boasts superb alternatives. Porto has numerous historical sights. Unfortunately, my travelling companions (i.e. kids) had already reached their monastery, museum and castle saturation point on their way from Spain.
What now?
What to do in Porto
So we decide to look for assistance, visiting the 'tourist information' office. Which turns out to be a somewhat misleading name. 
At the office, the available brochures are in Portuguese only. So we ask: "Do you have some information in English?" "No, but the leaflets do have pictures." True to that, although it might be helpful if we could understand what we were looking at. Another attempt: "Spanish, perhaps, or German?"
"Sorry, only Portuguese."
Notwithstanding the many foreign tourists visiting the city, clearly, the treasures of Porto are only intended for Portuguese eyes. They do, however, have a city map in English.
Casa dá Musica
So we explore the city with a map in hand. This leads us to the boulevard and terraces on the beach. Next, we see the Casa dá Musica, designed by our own (we are Dutch) Rem Koolhaas.
Which, according to Nicolai Ouroussof, architecture reviewer of the New York Times, is "the most attractive project Rem Koolhaas has ever made. A building whose intellectual zeal is matched by its sensual beauty." Hmm, a white block of concrete in an old city. Tastes differ; let's just stick to that.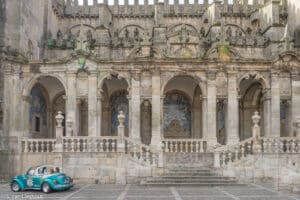 São Bento train station
After Casa da Musica we remain in the musical atmosphere with Beethoven. His music is an 'E' lower on the facade of a music store. His image is ingrained in azulejos, the iconic Portuguese blue tiles. These types of tiles are also used in the São Bento train station. Here warlike mosaics made from 20,000 tiles from the 1930′ draw the crowds.
Lello Bookstore
In the centre of Porto, Mc Donald's interior is surprisingly beautiful. A sticky hamburger does tastes differently when eaten in Jugendstil surroundings. Similarly, the Lello bookstore has an Art Nouveau decor. Take note of the unique staircase, which houses thousands of books. And just as many tourists marvel at the interior. Be prepared for a long wait to get in.
Cathedral Sé
The cathedral towers high above the city. The building was completed in the 13th century.
Ribeira, river district along the Douro
Wandering through the medieval centre of Ribeira with its narrow alleys, we arrive at the Maria Pia bridge built by Eiffel. This leads over the Douro to the Port wineries across the river. A cable car takes you back up to the bridge. From here, you can walk straight across the Douro into the centre. Especially suitable for those who are rather lazy than tired. A ride of two minutes costs no less than 6 euros (!). But you do get a voucher for a complimentary glass of Porto.
And that is precisely what we came here for. So to top it up here is my last Port tip, which you will thank me for. 
Port also tastes great as a cocktail: take white Port, mix with tonic. Ready, go.
You are welcome.
Practical information
Transport 
Porto is hilly, but the centre is relatively small and easy to walk. In case you have mobility problems, the city also has an extensive metro network. The train from Lisbon arrives in the centre at Sao Bento train station.

If you want to get some fresh air, walk (6 km) or take the vintage tram to the beach (stop Foz), line 1. A ride on the tram is an experience in itself. 

See the public transport route planner Porto.

The airport is opposite the train station. For a few euros, one can travel to the airport by metro. The journey takes about forty minutes from here, with a transfer at the Trinidad stop.
Wine tasting
Spend a whole day in the Douro Valley. Taste Port, other wines and olive oil, enjoy a traditional Portuguese lunch and cruise the Douro on a Rabelo boat. To book a wine tasting, 

click here for rates and availability

.

Alternatively, if you like Portuguese music and Port, experience an acoustic, traditional fado performance of an hour on conventional instruments in a unique and intimate setting. Port is served during the break. 

Click here for rates and availability

.
Where to eat and sleep
In Lisbon there is so much to do and to see. Historic sights, stunning views, delicious food and scenic rides are just a few of the attractions.
read more