Sightseeing in Rotterdam
Why is Rotterdam so much more interesting than Amsterdam? Where can you get a good meal? What are the best things to do in Rotterdam? How do you recognise a Rotterdammer*? Which attractions are worth seeing? What challenges do you find here? Where do you find unique places to sleep?
In short, in this blog, you get answers to all kinds of questions, which you probably did not realise you had.
Let's start with the first question.
Why is Rotterdam so much more interesting to visit than Amsterdam, the latter after all being the capital of the Netherlands?
Things to do in Rotterdam
For starters, the historic city centre of Amsterdam has lately become more of a 17th-century theme park, packed with hordes of tourists clogging it up, whilst Rotterdam's big heart is still a place for the Rotterdammers.
Rotterdam has interesting architecture
Although the city does not have an impressive reputation in international tourism yet, there is plenty to see, especially urban development. In addition, the Rotterdam centre has several modern architectural delights – thanks to our eastern neighbours, who created space at the beginning of WWII by bombing the cities' hearts.
Rotterdam is an international hot spot
With 634,000 inhabitants, it is a big city for the Netherlands but a small one globally. This has the advantage that the centre is easy to explore on foot. If your mobility is limited, that should not hold you back from visiting this city because you will find a metro station, water bus, or tram stop every five meters.
Rotterdam is the largest port city in Europe. Consequently, Erasmus University attracts international students. Because of immigration, 38% of the population of Rotterdam has a non-Western immigrant background, which makes it a global city, enterprising raw, worldly, ground-breaking and no-nonsense.
Rotterdam main attractions
Right, on to the other questions.
Where can you get a good meal? What can you do in Rotterdam? How do you recognise a Rotterdammer? Which attractions are worth seeing? What challenges do you find here? Where do you find unique places to sleep?
I will give the answers below, following a more or less logical route through the city, starting with an artistic highlight, although some (that is me) might call it a lowlight.
#1 Santa Claus
Santa Claus is a statue created by Paul McCarthy, not the ex-Beatle, but an artistically challenged American artist. Santa Claus, the figure, represents Santa with a Christmas tree in his hand. The locals refer to the statue as 'gnome butt plug'.
For the purchase of the artwork, the city has forked out a whopping €200,000.
When spending such an amount of money, it begs a few questions, such as:
   What is a butt plug?
Although I can imagine more or less what a butt plug does, the actual ins and outs (pun intended) are somewhat fuzzy. In cases like this, one has two options:
ask an internet-savvy teenager;
ask Google.
Both answers fall into the category T.M.I., too much information.
But more importantly,
 What were they thinking?
Right …
If you have finished wondering what exactly led the local authorities to this baffling purchasing decision, walk over to the other side of the square to relax with a cup of coffee from a former rascal.
#2 Heilige Boontjes
In the traditional sense, Heilige Boontjes (Holy Beans) is a coffee shop. A place where you can actually buy coffee; more about that later (see #13).
The store is housed in a historic building on the Eendrachtsplein. The baristas are young people with a criminal past about to return to society. In short, by drinking a cappuccino (€ 3.25), help a youngster towards a new future—a friendly initiative in a beautiful environment.
And as icing on the cake, you can also confess your sins here in the "Confession Guestbook".
So if you secretly desire that gorgeous neighbour or if you stole candy from the local grocery store, you can get absolution here. And if you are, like me, without sins, you can always throw the first stone. Of course, there is the risk that the police decide to give you a criminal record because of jeopardising your fellow man, but if you have always wanted a career as a barista, then you know where to go.
If this raises too many religious associations, opt for something completely different. Find a Hot Tug.
#3 Hot Tug & #4 Water taxi
The HotTug is a wood-fired hot tub in which you can sail through Rotterdam in steaming hot water. A brilliant idea and one I would certainly have liked to experience during my visit were it not that my body has yet to achieve that perfect bikini shape before the summer (± 10 kilos, as in more plus than minus) before I dare to expose it to the public.
However, if you are in a similar predicament, there is no need to panic, as there are countless other possibilities to enjoy aquatic pleasures in Rotterdam.
In a water taxi, you can fly low through the city to dozens of jetty locations in Rotterdam. Make sure to call the taxi in advance (T +31 10 403 03 03). Otherwise, you might have to wait half an hour for your transport. Prices are from 4.50 per person.
Alternatively, if you are more the type that appreciates a quiet ambience, visit the SS Rotterdam.
#5 Rotterdam Harbour & #6 Hotel New York
Sail around Rotterdam's harbour on a two-hour cruise aboard a vintage ship. Click here to see prices and availability.
Sailing and sails, all in one day! Step on board a beautiful ship for a guided cruise, a UNESCO World Heritage Site Kinderdijk. Explore the collection of 19 Dutch windmills, learn about the history of harnessing wind, and return to Rotterdam, genuinely cultured.
The SS Rotterdam is a historic steamship from 1959, formerly used by the Holland-America Line. The Holland-America Line was, till 1989, a Dutch cargo line and a cruise line operating primarily between the Netherlands and North America. Now it is a British/American-owned cruise line.
The SS Rotterdam is now permanently docked at Katendrecht. On the Lido deck, you can enjoy a fantastic view, and if the weather is good, you can take a dip in the pool. There is also the possibility of staying overnight on the ship.
Speaking of the Holland-America Line:
The emblematic Hotel New York on the Wilhelminapier is located in the former seat of the Holland-America Line. The building dates from 1901 and opened in 1993 as a hotel.
Of course, you can also spend the night here, enjoy a drink on the terrace or take a trip to the beautiful Fotomuseum, which is 200 meters from the hotel.
#7 Fotomuseum Rotterdam
The Fotomuseum in Rotterdam own millions of images. The museum shows photography in all facets: documentary and experimental, contemporary and historical. In addition to exhibitions with big names from the Dutch and international photography world, the museum regularly shows work from its collection. You can also visit the media library, the cafeteria and the shop.
Address: Las Palmas, Wilhelminakade 332, 3072 AR Rotterdam
After so much cultural fun, it is time to think about foodstuff again. Cross the Rijnhaven bridge to visit the Fenix Food Factory.
#8 Fenix Food Factory Katendrecht
The Deliplein in the Katendrecht district is the new hotspot of Rotterdam, especially the Fenix Food Factory is hip and happening. Here, in an old harbour warehouse, you will find craft beer brewers, Moroccan snacks, coffee roasters, cheesemakers, booksellers and much more.
After all this enjoyment, it is now time for a challenge. Which is: Take a picture of the iconic Erasmus Bridge.
#9 Erasmusbrug Rotterdam
The Erasmus Bridge connects the 'Kop van Zuid' district with the centre on the north side of the river. Popularly, the bridge is also called the Swan. You can do fantastic things on and off this bridge. For example, you can walk, cycle or drive over the bridge. Or do as I do, make at least 73 pictures and conclude that you have to return to Rotterdam because none of the images taken does justice to the structure's beauty.
And now that we are enjoying the cityscape walk half a mile to Leuvehaven.
#10 De Verwoeste Stad & #11 De Brandlijn
On Plein 1940, at the Leuvehaven next to the Maritime Museum, stands the statue, "the ruined city" of Ossip Zadkine. He made the bronze following the bombing of Rotterdam by the Nazis. The statue symbolises the heart of Rotterdam that was lost during the bombing.
The artwork lets you dwell on the horrors of the war, especially after seeing photographs of Rotterdam Centre before and just after WWII. In the words of Zadkine himself:
"The image wants to embody the human suffering that a city had to undergo that, with God's grace, wanted to live and flourish like a forest, a cry of disgust for the inhuman cruelty of this corpse."
Follow the fire line to get an idea of the devastation's extent.
The fire line is the border along the destruction caused by the bombardment of 1940
Rotterdam. The fire line is marked with lights in the ground, featuring flames depicting the silhouettes of the burning city, a Heinkel He-111 bomber and the image mentioned above visiting Ossip Zadkine.
Now let's go back a bit further in time, with a visit to Witte de With.
#12 Witte de With & #13 Coffeeshops
Witte de With is known in the Netherlands as a naval hero; in every other country, he would have been known as a pirate (see the attack on the Spanish silver fleet). Never mind this. The Dutch are happy with all the richness he stole from the Spanish, who had stolen the goods from the Native Americans. Rotterdam is rightly proud of the former red-light district named after Witte because it is a buzzing street with art galleries, cafés, restaurants, shops and terraces.
And whilst in this neighbourhood, try your next challenge.
Is it legal to smoke pot in the Netherlands?
Look for a coffee shop. I would never recommend not smoking weed because this is a family-friendly blog. No, the intention is to grab the concept of a coffee shop.
So for starters, you are not meant to drink coffee at a coffee shop (see #2). This type of shop is intended to score hashish. Yes, that is legal in the Netherlands. Well, perhaps not entirely legal, but it is tolerated. So no, it is not allowed according to the letter of the law, but we use it anyway, and that is okay, as long as you possess no more than 5 grams.
Of course, not everybody is as tolerant as the Dutch, which has some unexpected advantages for the shop owners. According to the EU, since the sale of weed is prohibited, the owner does not have to pay sales tax. However, income tax is levied on coffee shops.
All common sense, right?
Incidentally, growing weed, unlike for your use, is also illegal. Therefore suppliers don't exist. Indeed, hard drugs are forbidden, and no, you cannot buy alcohol here because a coffee shop does not have an alcohol licence. The sale of alcoholic beverages would, therefore, be illegal. Hence, no alcohol.
Good luck!
After this challenge, it is time again for a snack and a drink. Indeed, I see a recurrent theme in this story. That probably also explains the ten kilos from point #3.
Back to the route, in the same Witte de Withstraat where you went looking for a coffee shop, you can also find a restaurant and hotel Bazar.
#14 Hotel & Restaurant Bazar
I've visited Bazar several times since the beginning of this century and had to visit the local hospital several times. The hospital happens to be on the corner of the Witte de Withstraat. A convenient place to sleep before a hospital visit (we came from far, far away) and afterwards to eat because Bazar is the nicest restaurant in Rotterdam. Most dishes on the menu come from the Middle East and North Africa. All meat is halal.
The restaurant opens for breakfast at 8 a.m. (€9.90), consisting of a thousand holes pancakes, fresh orange juice, coffee or tea, yoghurt with fresh fruit, honey, a boiled egg, cheese (Turkish) bread and all kinds of exotic spreads.
But you can also enjoy lunch or al fresco dining on the terrace. Take, for example, an appetiser for €6.75 pp consisting of olives, smoked almonds, falafel, fried chicken wings and a few more spreads with Baklava (€4.90). Combine this with a glass of wine and coffee, and you have eaten well for about 15 Euros.
The food is enjoyed amidst a decor with oriental lamps and brightly coloured furniture, an absolute visual delight. Moreover, the hotel has 27 rooms decorated in Eastern, African and South American atmospheres. All rooms have a television, telephone and a minibar with soft drinks.
Rooms Hotel Bazar Rotterdam
My African-style room has a wooden floor, a comfortable bed and a spacious closet. There is also a separate shower and toilet, but they forgot to build a door separating the bathroom from the rest. In my case, that is unimportant since I am alone in the room. Still, if I had shared the accommodation with a friend, I would have liked to have had more privacy, especially given the limited number of toilets in the rest of the building (2 ladies' toilets in the restaurant).
For the rest, the room is top-notch.
A Hotel-Restaurant Bazar Rotterdam, Witte de Withstraat 16, 3012 BP Rotterdam
T +31 10 206 5151
#15 Restaurant Oliva
Oliva is an Italian restaurant opposite Bazar. The food is tasty here but in a different price range. You can eat à la carte or take a three / four / five-course menu (€37.00 / €44.00 / €49.00). The menu with fish is super tasty. The accompanying Sicilian Catarratto wine is delicious but not cheap (€5.25 per glass).
Bread, olives and oil are included in the price. A jug of water costs €1.50 and a coffee €2.50. All in all, the meal sets us back a bit over fifty Euros per person.
For more 'food' with a touch of art, continue your walk for about a mile to the market hall.
The Markthal, in the form of a horseshoe, is a building with a market hall, flats, parking garage, restaurants and shops. The ceiling, the size of two football fields, also serves as a work of art entitled "Horn of Plenty".
You see two architectural highlights from the hall: the Blaaktoren or "the pencil" and the cube houses.
#17 Kubuswoningen
The cube houses are 38 cube-shaped pile dwellings and 13 company cubes near the Markthal and Blaak. This 'Blaakse Bos' was designed by Piet Blom. What Rotterdammers will forget to tell you is that these are a variant of the previously built cube houses in Helmond (south of the country).
Most houses are privately owned and therefore not public, but you can view the kijkkubus and/or spend the night in another cube.
After this short architectural trip, it is time to return to my favourite theme: food. Go to the fish market.
The Marriott Hotel, opposite the Central Station, regularly holds a 'fish market' in collaboration with Schmidt Zeevis, the best fishmonger in town. The cook prepares fish for you on a wood fire or a Green Egg when the weather allows. The Fresh Fish Market is available in various themes:
   North Sea fish
   Mediterranean fish
   Mussels
   Shrimp & lobster (surcharge €12.50)
The Fresh Fish Market can be reserved for 40 people or more at €39.50, excluding drinks. It is an all-you-can-eat concept (but classy), and the wood-cooked Corvina is the best fish I've ever eaten.
More information
A. Rotterdam Marriott Hotel Weena 686 | T. 010 430 2218
You can also sleep at the Marriott. For prices and availability, click here.
Humans are not the only seafood lovers; the local birds are also keen on fish. So you will see plenty of the feathered kind in the city centre.
#19 Birds
Looking around, you see all kinds of water birds—grebes, geese, ducks, and larger birds such as herons, storks and swans. So find a bench, enjoy the birds and relax.
Finally, when you are entire 'Zen', go shopping. Start at Chinatown.
#20 Chinatown & #21 Shop till you drop
Chinatown is a Chinese neighbourhood, the largest in the Netherlands. Here, Chinese people live and many Dutch, Antilleans, Surinamese, and Africans. The Chinese community is located along the Kruisplein, Schouwburgplein, West Kruiskade, Diergaardesingel, Mauritsweg and Westersingel.
Be sure to stop by Queenie Liu, a Chinese bakery on the Westersingel, for deliciously strangely coloured pastries.
Finally, pay Santa Claus a tribute; visit the two largest department stores, Hudson's Bay and the Bijenkorf, in the centre of Rotterdam, to spend your last pennies.
With thanks to Rotterdam Pages, Marriott Hotel, Hotel Bazar, Traverse and the Fotomuseum for their hospitality and cooperation.
More about the Netherlands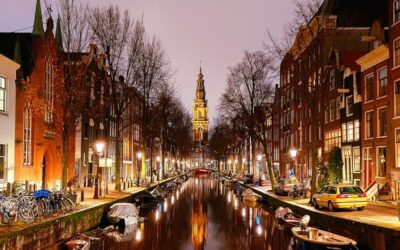 A Voyage through Amsterdam Is a canal cruise through Amsterdam super touristy? The short answer is a resounding yes! But is it fun? Yes, absolutely. Even for a seasoned Amsterdammer, there is no better way to see the city in a relaxed way than with a cruise through...
read more