Scotland is breathtakingly beautiful
The general perception is that it rains a lot in Scotland – my experience would concur. And that's a good thing.
Everybody would go holidaying there if it weren't for the country's abysmal weather. Because when the clouds finally break, breathtaking landscapes appear out of nowhere, only to be shrouded in fog minutes later, waiting to surprise the next spectator with their beauty.
Discover Scotland by car
Empty moors, abandoned monasteries, medieval castles, dreamy lochs, sandy beaches, nature reserves and foggy highlands make an ideal home for mythical creatures like the monster of Loch Ness.
And yes, by all means, do try the whisky.
No wonder legends come to life in these magical lands. See for yourself.
Discover the ruins of Dunnottar
On a rocky outcrop in the sea stand the abandoned ruins of Dunnottar Castle. Once home to the Earls Marischal, one of the most powerful families in Scotland, now a haunting memory of a long-gone era.
Park, if possible, in the harbour of the nearby village Stonehaven and take the path uphill to get the most out of the spectacular views. At the top of the road, you will first see the war memorial; from there, it is a fifteen-minute walk to the castle.
Visit the castle's website for opening times, entrance fees, etc. 
Have a bath in black water
In many places in Scotland, one finds black water from the peatlands. These are formed from an accumulation of partially decayed vegetation or organic matter.
The rivers that flow through these bogs turn black, resulting in acidic water that is darkly stained, resembling tea or black coffee due to tannins leaking into the water. But don't let that stop you from dipping in the water; it will surely be refreshing.
Explore Benmore Botanic Garden
On the Cowal Peninsula in Argyll, Benmore Botanic Garden is probably one of the best places in Scotland to get lost. Start your walk at the entrance through an avenue of 150-year-old giant redwoods, then throw away your map and just enjoy the dramatic scenery.
The 120-acre estate is home to plants from different world regions, with species from the Orient, the Himalayas, and North and South America. Ensure not to miss the Golden Gates and the viewpoint at 450 feet.
Mount the Munros
The Munros are the 284 mountains in Scotland over 3000 feet, or 914 meters, high. Those are named after Sir Hugh Munro, who first listed them in 1891. Ben Nevis, the most famous of the Munros, is the highest mountain in the British Isles. It stands at 4,414 feet above sea level.
Hiking the Munros can be challenging, especially in adverse weather conditions in winter. Even in the summer, a hike can become dangerous due to the sudden appearance of strong winds, rain and freezing temps at the summits, all of which happen frequently. People die in the mountains, but that doesn't stop hikers from climbing all the listed Munros.
More of the Munros can be found on this Scottish hiking website.
Be inspired by Slains Castle
Slains Castle is a 16th-century tower house built by the 9th Earl of Erroll. Significant reconstruction of the castle has been carried out several times, lastly in 1837 when it was rebuilt as a Scottish Baronial mansion. It had three extensive gardens at once, but now it is a roofless ruin.
Rumour has it that Slains Castle inspired Bram Stoker for his story of Count Dracula.
The castle is on the Aberdeen coastline near Cruden Bay and Bullers of Buchan (below). It is situated on cliffs.
Swim with seals
Sandy dunes and beaches dot the Scottish coastline. Outside the breeding and moulting seasons, seals haul out on beaches, sandbanks, and rocks to rest between fishing expeditions, either alone or in small groups. Just by walking on the beach, you'll see many curious seals pop their heads out of the water.
The best time to see seals is onshore to breed and pup between September and December. During the breeding season, special seal-watching trips are available.
Find your thrills at the Bullers of Buchan
The 'Bullers of Buchan' is a collapsed sea cave on the rocky coastline north of Aberdeen, near Cruden Bay and Slains Castle. The cliffs provide a nesting site for different seabirds: puffins, kittiwakes, guillemots and razorbills. Also, look out for seals and dolphins. These are often seen passing by.
The name "Bullers" has probably been derived from the French "bouillir", meaning "to boil", as the water in the pot appears to boil during stormy weather.
Access is via the A975 road, served by a regular bus service between Peterhead and Aberdeen. Close to the cave is a car park. Take care, especially with children, as the footpath is unfenced and steep prevalence cliffs.
Trail the Scottish myths
These sites form a fertile ground for the extraordinary stories the Scots tell.
Myths, legends and fables, according to some, are chronicles based on historical events according to others. Did I hear Nessie, anyone? Empty moors, abandoned monasteries, medieval castles, dreamy lochs, sandy beaches, nature reserves and foggy highlands make an ideal home for mythical creatures.
Edinburgh, the friendliest city in Scotland, is known for many things. Its castle, men in woollen skirts, whisky trails, and there is Bobby, a dog that got immortalized in a statue. No wonder legends come to life in these magical lands. So go and find out for yourself to see if you can tease them out of their hiding.
Practical advice for your Scotland itinerary
Packing list
Check what you need to bring. Putting together a travel wardrobe for Scotland is essential, as rain and unpredictability rule the day.
Ticks
Unfortunately, Scotland has a lot of ticks. A tick is a small animal that can cause great misery because it can transmit various diseases, such as Lyme. This is particularly important if you plan to do some hiking or camping.
Money Matters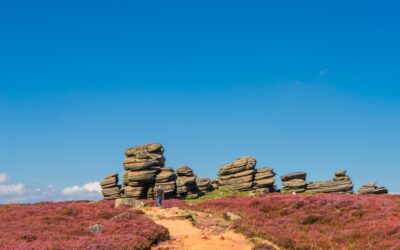 The Peak District National Park is an amazing nature park in central and northern England. It is therefor a great place to hike, ride a horse or cycle. That is if you like steep, rocky trails.
read more