Did you know that if you buy the I Amsterdam City Card, you get access to most of the top attractions, including more than 70 museums? In addition, the card includes public transport, a canal cruise and bicycle rental. This way, you skip long lines and save your entrance fee. Plus, you get discounts at select restaurants, attractions, and concerts.
Small but great museums in Amsterdam
Amsterdam has dozens, if not hundreds, of museums. The Anne Frank House, the Rijksmuseum, and the Van Gogh Museum are just a few well-known ones. Every year tourists flock to them in droves.
Fortunately, Amsterdam also has lesser-known museums, usually smaller and more specialized. Precisely that makes them attractive because one can look around peacefully without the hordes of day trippers.
Museum Ons' Lieve Heer op Solder
The Museum Ons' Lieve Heer op Solder is such a small but excellent museum. It once landed on my bucket list because it was mentioned in Geert Mak's monumental book "The many lives of Jan Six".
You should read this book if you have an above-average interest in Dutch history.
But I digress. Let's go back to Ons' Lieve Heer op Solder museum, located in a canal house from the 17th century in the historic heart of Amsterdam. The museum is within walking distance of the central station.
Visit the Museum Ons' Lieve Heer op Solder
The former home of Jan Hartman, a wealthy Catholic merchant, has largely been preserved in its original state. In the house, you will discover what a Dutch household looked like during the 17th century. The museum has two kitchens, bedsteads, lounges, narrow (typical Dutch) staircases, and, of course, 'the showpiece', the attic church.
The attic church has a unique history.
The Golden Age
Hartman lived in Amsterdam during the Golden Age. At that time, the principle of freedom of conscience applied in the Republic of the Netherlands. That meant anyone could think and believe what they wanted as long as they followed the Protestant faith in public. During that period, Catholic churches and monasteries were also confiscated and repurposed as Protestant buildings.
The attic church
However, the city council did tolerate the Catholic faith indoors. Thus giving rise to attic churches like the one in Hartman's former home.
A hidden church in the attic provides a remarkable insight into what the life of the Amsterdam Catholic looked like about 300 years ago.Practical info
Address: Oudezijds Voorburgwal 38-40, Amsterdam
Order your online tickets: Museum Ons' Lieve Heer op Solder, unless you have an Amsterdam City Card, as tickets are included in the card.
There is a free audio tour in several languages. During the user-friendly tour, you will hear all kinds of things that you would otherwise surely miss. If you go with foreign guests, that's no problem because the tour can also be listened to in English, French, German, Spanish, Italian, Chinese, Dutch and Russian.
The museum is closed on Sunday mornings.
Other museums Amsterdam
The choice of museums in Amsterdam is overwhelming. I try to visit one every time I visit the city. But yes, choices, choices.
If you have any tips, I'd love to hear them. Send me an email or tip me via social media.
Street Museum
The Street Museum on the NDSM wharf is the museum for graffiti and street art. The bright colours and size of the 150 works of art on display in an old ship shed to provide a visual spectacle.
You can read all about it on my blog about the NDSM wharf.
You might also want to visit these attractions & cities in the Netherlands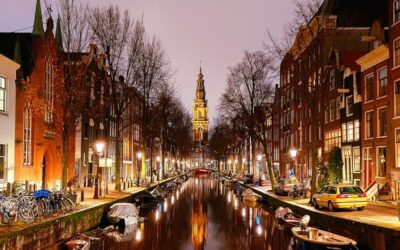 A Voyage through Amsterdam Is a canal cruise through Amsterdam super touristy? The short answer is a resounding yes! But is it fun? Yes, absolutely. Even for a seasoned Amsterdammer, there is no better way to see the city in a relaxed way than with a cruise through...
read more