Valencia: city, province & region
Valencia is not just one of those iconic Spanish cities, known for its famous landmarks, gastronomy (yes, I mean Paella), and festivals like 'Las Fallas'.
It is also the capital of the province and an autonomous region, which includes the areas of Alicante, Castellón and of course Valencia itself.
Beaches of Valencia
The region has a sunny climate, mountains, beaches, wetlands, Paella and history dating back to the Greeks who established colonies in the 5th century BC. In short, everything that most tourist looks for in a destination.
Albufera
My interest in the region recently increased by binge-watching El Embarcadero (the Pier), a sensual thriller series set in near futurist-looking Valencia and the spectacular Albufera National Park, a network of inland lagoons, marshes and rice fields.
To explore the national park, take a bus trip to the freshwater lagoon of Albufera Natural Park from Valencia. There join a 30-minute boat ride across the lake, enjoy a typical lunch and have a swim.
Even after living in Spain for ten years, I know Valencia from passing by. I know, my bad.
That is why I asked fellow travel bloggers what their favourite Valencian attraction is.
Beaches
City Centre
Gastronomy
Valencia province
Practical advice
What to do and to see in Valencia
Of course, Albufera is not the only place to enjoy the sea as Valencia's Mediterranean lines the beaches. Moreover, the gulf of Valencia is low-lying and has mainly sandy beaches and a few shingle beaches.
Atiba & Ilse, the Digital Travel Couple, suggest visiting the Malvarosa beach near the capital.
Malvarrosa beach Valencia
With a length of almost two kilometres and an average width of 135 metres, Malvarrosa is a broad and open beach with fine sand, bordered by the promenade decorated with palm trees. The beautiful beach is perfect and a lovely getaway from the city centre. La Malvarrosa is lined by former fishers' quarters, which give a unique feel to the beach and its environment.
As Malvarrosa beach faces east, it is a great place to watch the sunrise and have a morning stroll or run. The wide promenade provides an excellent opportunity to work out or sit down and enjoy the view. Alternatively, take part in a game of beach volleyball at one of the many sand courts. And for a tasty lunch or a drink, the great beach clubs are the perfect spot to spend a lazy afternoon. There are tons of restaurants along the promenade, including great places to eat tapas, ice cream spots, coffee shops, and cafes with lively terraces.
How to get to Malvarrosa beach
You can quickly get to Malvarrosa beach using one of the seven bus lines that go through the city. Or rent a bike so you can explore the town and promenade by bicycle. Another option is to use the tram (lines 4 or 6), which will bring you just a few meters away from the beach.
Best time to visit Malvarrosa beach
Valencia has a Mediterranean climate with consistent, pleasant weather. The best season to visit Valencia is between March and June when the weather is warm but without too many crowds. July to October is the best time to enjoy the beaches in Valencia. However, this is also the high season making the beach quite crowded. 
Valencia city highlights
By Jane and Duncan of To Travel Too
The city is packed with architectural wonders. Some date back to Roman and Arabic times; others are futuristic, like the City of Arts and Sciences.
Valencia Essentials Free Walking Tour
To get a quick feel about the city, take a walking tour. Free Tour Valencia offers two walking tours.
In the morning, one can enjoy a Valencia Essentials Free Walking Tour and join their Valencia Emblematic Walking Tour in the afternoon.
Should I tip?
Although the walking tours are free, the local guides operate on tips. Most people tip between 10 – 20 euros depending on how knowledgeable your guide is and how fun your tour was.
Where to meet for the Free Walking Tour
This tour meets at the Plaza de Virgen, the oldest square in Valencia, next to the fountain of Neptune.
The first two stops were not far away from the starting point – Valencia's Cathedral and the Basilica. If you visit the Cathedral, head to the Apostle doors and inspect the statues, none of them has arms or hands. This is because the sand material used in the construction could not cope with Valencia's humidity.
Valencia's central market is a must-see, famous for its gastronomy, and a visit is usually included in a walking tour.
Valencia is famous for three drinks:
Mistella – a white wine that you drink out of a shot glass,
Agua de Valencia – a 75% alcoholic drink typically served in a jug
And Horchata – a sweet non-alcoholic beverage. The Horchata we tried at the Central Market – you either love it or hate it.
Furthermore, the tour included local churches and the L'Almoina Archaeological Museum, but the most exciting was the narrowest building in Europe at 1.7 m wide – one apartment one floor.
When strolling through the streets of Valencia, no doubt you come across the Silk Exchange.
Lonja de la Seda, the Silk Exchange
By Lucile of a Wellnes and Travel Blog
La Lonja de la Seda is a silk exchange built in the fifteenth century after the old one became too small for its booming activity as Valencia continued to prosper. The city was a mercantile power in the Mediterranean and was the capital of its kingdom. Even though this building was created to impress visiting traders and showcase the city's wealth, it has some quirky details. Like the hilarious and obscene gargoyles meant to portray the sins of humanity. It can be fun to take some time to observe how they were represented at the time!
How to get there
It is a UNESCO World Heritage Site, located in the historic city centre, next to the Central Market. The modern access is through the back door, after which you'll arrive in the courtyard filled with orange trees. Take some time to relax here or come back after your visit. In summer, it tends to get hot, so that can be an excellent place to seek a bit of fresh air before heading into the city.
You'll then enter the contract room, where most of the business was conducted. It has gorgeous twisted columns that resemble palm trees. The other chambers hosted a merchant tribunal and occasionally imprisoned merchants for debts.
When to go
It is a top-rated site and one of the city's main attractions so you should go there early to ensure it is not too crowded.
If you prefer going solo, take the audio guide; thus, you will probably enjoy learning more about the historical and cultural context of this place.
Alternatively, book the Silk Route Guided Tour.
Street Art in El Carmen
By Or from My Path in the World
Valencia is a perfect destination for Street art lovers. Some even consider this the street art capital of Spain.
How to get there
Many of the artistic creations can be found in the neighbourhood of El Carmen, situated in the northern part of the city's old town district, Ciutat Vella. From giant and colourful murals to small quirky figures hidden in an alley, the street art of El Carmen is incredibly diverse and fascinating, especially when it's combined with the neighbourhood's traditional atmosphere. To explore it, take a Guided Tour, create a self-guided walking tour, or roam through El Carmen freely and make your discoveries.
A few visit-worthy spots to check out are:
Moret Street, also known as the Street of Colours, is home to several notable works of urban art like 'The Kiss' by Luis Lonjedo and 'Bridge in Venice' by Deih.

Moro Zeid Street, where you'll find a whimsical, colourful creation by one of the top artists in Valencia, Julieta XLF. She always paints a Japanese-inspired girl with her eyes closed and animals and plants around her.

Carrer de Baix, Carrer de Llíria, and Carrer de Salvador Giner, which are packed with street art of all kinds.

Plaza del Tossal, where you'll find murals by two more famous artists in the city – Escif and Blu.
If you want to explore more of Valencia's street art, other parts of the city where you can find it are the neighbourhoods of Ruzafa and El Cabanyal.
Palacio del Marqués de Dos Aguas (Ceramics Museum)
Palacio del Marqués de Dos Aguas or Ceramics Museum is one of the top-visited places in central Valencia. This architectural building is of Rococo style. For those visiting from India, it is much like St. Paul's Cathedral Kolkata. The palace was redesigned from a Gothic building from the 13th century to a baroque style in the early 18th century by its owner Marques of Dos Aguas, a wealthy merchant. Now it's owned by the Spanish state. Walls are coated with fabric and render, which gives a royal feel to the place. The statue of Lay Rosary guards the stunning alabaster entry to the palace.
The building consists of four floors. Visitors will see approximately 20 individual rooms.
The Ceramics Museum is on the top floor. Here you will find items made of ceramics, a few pieces of art by Pablo Picasso, porcelain plates, hand-painted tiles and many more. The most impressive room is the ballroom, where visitors used to be entertained. It's full of symbolism. Everything is painted porcelain inside the Porcelain Room,  even the lamps and chairs.
When to visit
Opening hours are 10 am to 2 pm, 4 to 8 pm from Tuesdays to Saturdays and 10 am to 2 pm on Sundays. The palace is closed on Mondays.
Sunday and on holidays are free entry. Children up to 18 and senior citizens go for free.
Adults pay €3 or €1.50 when in groups.
Note at the time of writing, they accepted only cash.
There is no audio guide, but all the information is written in 4 languages (English, Spanish, French, Italian).
How to get there
Depending on where you stay in the city, walk or take public transport. Bus- 4, 6, 10, 11, 31, 32, 70, 71, 81 and metro- L3, L5 will get you there.
To avoid the crowds, choose to take a private walking tour.
The City of Arts and Sciences
By Rachel Heller of Rachel's Ruminations
The City of Arts and Sciences (Ciudad de las Artes y las Ciencias) in Valencia is sure to elicit a "Wow!" at first sight. Its futuristic array of sleek buildings shines in the sun. Their curved or neatly angular construction seems otherworldly, with outsized expanses of white concrete or glass. The contrast with the old centre of the city is jarring. In short, it looks like a set from a sci-fi movie plunked down beside the Turia riverbed, now an urban park.
Designed by Santiago Calatrava and Félix Candela, the buildings were completed between 1998 and 2009 at enormous cost to the city. Walking among them is free, but it's certainly worth seeing the insides as well.
The Museum of Science, resembling some many-legged insect, contains excellent interactive exhibits about various science topics inside soaring glassed-in spaces.
The Hemisfèric is an IMAX theatre and planetarium, meant to resemble an eye, but also seems insect-like to me. 
The Oceanogràfic, a round building with huge swooping curves, holds an aquarium with sea creatures from all over the world.  
The Palau de Les Arts Reina Sofia is a performing arts centre with intricate layers of roofs. 
The Agora, looking like a helmet from Star Wars, covers a plaza for a range of events. 
The Umbracle is an elegant park and sculpture garden full of palm trees covering the roof of a parking garage. 
How to get there
The City of Arts and Sciences is southeast of the city centre, about a half-hour's walk away. 
However, if you follow the park along the Turia Riverbed, you'll see it well before you arrive. 
Best time to visit
In the hotter months, it's probably best to visit early in the morning or in the evening to avoid the heat, with the bonus of better lighting for your photos. 
To skip the line, buy your ticket in advance.
Click here to buy an online ticket.
Continue reading about the City of Arts and Sciences here.
Turia Riverbed Park
By Stuart from Just Travelling Through
Turia Riverbed Park is the perfect place to enjoy an afternoon in Valencia. Until the late 1960s, the site was filled by the Turia River. However, after severe flooding problems, an ambitious plan was made to divert the river around the city and alleviate any future flooding issues. But it wasn't until the mid-1980s that the riverbed opened as a park. Now it's a 7 km stretch of green fields starting North-West of the city centre until it reaches the City of Arts and Sciences.
The park has areas where locals play rugby, football, hockey and other sports; gardens, water features, an adventure playground and running tracks. There's also an exhibition space for fairs and other events held throughout the year. Each section of the park is divided by picturesque bridges to create peaceful areas in one of Spain's largest cities.
When to visit
The Turia Riverbed Park is a great place to visit at any time of day, but especially early afternoon when the city is at its hottest. So first, find a shady spot under the trees and relax. Then when it cools off, rent a Valenbisi bike from a nearby bicycle station and take it for a ride through the park. You'll find a bike station by Porta de la Mar, or better yet, get the Valenbisi app to find the nearest station.
How to get there
The riverbed park is just a few minutes walk from the old walls of the city centre. Alternatively, the Alameda metro station is in the middle of the park. Reach it by jumping on either line 3 (red) or line 5 (green).
Gastronomy Valencia
The city and region are famous for their gastronomy. Some acclaimed dishes are the Paella Valenciana, tapas, and all sorts of fish from the Mediterranean sea.
Tapas Tour
Anna of 'Would be Traveller' recommends a Tapas Tour to discover the city.
If you enjoy sampling local cuisine when you travel, one of the very best things to do in Valencia is joining a tapas tour. The Spanish tradition of going out for tapas is perhaps less common in Valencia than in other parts of Spain. Still, a tapas tour makes for a fun way to fill your belly while meeting new people.
Each tapas tour is different. But you're bound to be served the classics such as patatas bravas (potatoes served with a spicy tomato and creamy garlic sauce), albondigas (fried meatballs) and croquetas (breaded ham or cheese croquettes). You might also find some lesser-known dishes, including pintxos – a small portion of different tapas served on a piece of bread and skewered with a cocktail stick.
When to go
Most tours start in the evening in the old town of Valencia, where most tapas bars are. From your meeting point, your knowledgeable and friendly local guide will accompany you on a walking tour of the city, sharing stories and facts about Valencia along the way. Then they take you to their favourite tapas spots, where you will be treated to a selection of dishes and local drinks to share with your new friends. The whole tour will take around 2-3 hours, so the perfect evening activity to add to your Valencia itinerary.
Dietary requirements
To experience the unique gastronomic scene of Valencia, take a private tasting tour with a local host. The tour includes a visit to 3 fabulous locations to taste refined finger foods accompanied by perfect drinks.
Click here to book the Valencia Gastrobars tour.
If you book a tour in advance, make sure you let your guide know of dietary requirements. They will do their best to make sure you're not left out. With so much on offer, you certainly won't go hungry!
When exploring the city centre, Ruth of Tanama Tales suggests visiting the Central Market for a gourmet experience.
Central Market
The Central Market or 'Mercat Central' as it is known locally, is in Valencia's Old Town. It has a roofed structure covering over 8,000 square meters. With more than 1,200 stalls, it should be a "must stop" for those who have fallen in love with the gastronomic world.
The market has origins in the late 1830s. In 1910, a design for a roofed market was chosen from a contest sponsored by the city. Construction started in 1914 and finished in 1928. The structure ended up being one of the top works of Valencian Art Nouveau or Modernism.
Do not rush around the market. Instead, take time to walk down the halls and inspect the stalls bursting with fruits, vegetables, legumes, cheese, spices, nuts, meat, fish, and seafood. Chances are you will see things you have never seen before.
But do take the opportunity to try products or dishes typical of the Valencian Community. These include oranges, candied oranges, pumpkin bunyols (Spanish: buñuelos), pumpkin flan, cured meats, coca (sweet or savoury pie resembling a pizza), torró (Spanish: turrón), Servilleta cheese, peladillas, xufas (tiger nuts) and orxata (Spanish: Horchata).
If you want to sit down for a bocadillo (sandwich or roll), the Central Bar offers cold dishes, hot dishes, desserts, wines, and non-alcoholic drinks.
When to visit
The market is open Monday to Thursday from 9:00 a.m. to 2:00 p.m. and Friday to Saturday from 8:00 a.m. to 2:30 p.m. The Central Bar is open Monday to Saturday from 6:30 a.m. to 3:30 p.m. To avoid crowds and find the best selection of products and prepared food, it is best to visit between 9:00 a.m. to 12:00 p.m.
Drink a Horchata
One of the things one must do in Valencia, Spain, is to drink a refreshing horchata. This typical Spanish drink is originally from Valencia, and even nowadays, the best Horchata is to be had in the Valencia region.
So how is Horchata made?
Horchata consists of water, sugar, and tiger nuts (called chufas in Spanish), making Horchata opportune for vegetarians, vegans, and people with dairy allergies, but of course, not when you are allergic to nuts.
Best time to drink a Horchata
You can get Horchata in almost any ice-cream shop. The most suitable moment to drink a horchata is during the merienda, a light meal between lunch and dinner that the Spaniards usually take around 6 pm.
Where to go for a Horchata
One of the best places to have Horchata is Horchatería Fabian, famous all over Valencia.
Make sure not to confuse this drink with the Horchata from Mexico. They look deceptively similar, the Mexican version made from rice, milk, vanilla, and cinnamon.
You can find Horchata all over Spain, especially in the South, with other traditional Andalusian food.
One of the most famous events in Spain is 'Las Fallas de Valencia'. It is so important that Unesco added the festival to the intangible cultural heritage of humanity list in 2016.
Anna of Liquid Travelling describes the festival.
Las Fallas de Valencia
Valencia's most famous holiday Las Fallas occurs every year between 15th and 19th March.
Its roots date back to the 16th century when the local carpenters celebrated their patron St. Joseph by burning structures created from wooden waste. Over time, some of them began to take on human shapes to transform into caricatures of famous people.
Contemporary Fallas are massive, colourful structures. They are still a mocking expression of public opinion on current local topics. Local communities build and carry these at the beginning of March on the streets of Valencia.
Throughout the whole festival, there are several events.
Every day at 2 pm is a fireworks show (La Mascletà) at the Plaza del Ayuntamiento.
On March 16th, there's a procession of citizens wearing regional and historical costumes from different eras of Valencia's history. All participants walk through the city and choose the prettiest Fallas in the adults and children category.
On the same day in the evening, the 'Cavalcada del Foc' takes place. The parade, made up of colourful people in costumes, music and Fallas, goes through the town and then all-night fun until the morning.
The next two days, 'L'Ofrena de flors' takes place, which is the offering of flowers to the Virgin Mary. Falleras wearing traditional outfits March through the city, carrying bouquets that are placed on a wooden scaffolding located in front of the basilica at Plaza De La Virgen, forming a cone around the sculpture of the Virgin Mary.
The entire festival lasts until March 19th. The Fallas are burned on the last night of the festival, followed by a massive party throughout the city.
An excellent way to see most of the festival is by bike, in 1.5-hours, ride through the city centre to see the most beautiful Fallas in town and have a special visit to a traditional "Casal Fallero".
Circuit Ricardo Tormo Valencia
Circuit Ricardo Tormo Valencia, a motor racing circuit on the outskirts of Valencia, is the home of the annual Valencia MotoGP race. Built in the late 1990s, the course was named after Ricardo Tormo, a 2-time MotoGP champion from Spain who died in 1998. The circuit has been part of the MotoGP calendar since 1999 and also hosts a range of other motorsport events throughout the year. The Valencia MotoGP race the season ends typically in late November when the weather in Valencia is still sunny and pleasant. Up to 120,000 fans attend the event. 
Due to its strategic location in southern Europe and pleasant weather most of the year, Circuit Ricardo Tormo Valencia is also a popular venue for testing everything from Formula E to Formula 1. Measuring 4 km, the circuit has 14 turns and offers excellent spectating given its compact size and elevated grandstands.
How to get there
Circuit Ricardo Tormo is about 25 km west of Valencia. The easiest way to get there is to drive on the M3 motorway in the direction of Madrid, though it's better to leave your car home on major race weekends and take the train instead. Trains on the Renfe Cercania C3 line in the direction of Madrid stop at the circuit; from Valencia-Estacio Del Nord, the journey takes about 40 minutes. Trains run every 1-2 hours (more frequently on significant race weekends).
When to go
Aside from racing, the circuit also stages regular track days for members of the public, when they can drive their car or motorbike on the track. With prices starting from €99, the Formula GT company lets you get behind the wheel of various supercars and open-wheel formula cars on a professional track.
Of course, there is lots more to see. Do you have any tips or suggestions, please leave a comment or shoot me a mail.
Practical advice
How to get to Valencia
Train
Valencia is very well-connected, high-speed trains (AVE) go to Madrid and Seville, Cuenca and Cordoba from Joaquín Sorolla train station.
Air
The international airport is just eight kilometres from the centre of Valencia with regular flights to popular domestic and many European destinations.
Boat
The city is home to one of the most important ports in the Mediterranean. The port, which operates passenger services to the Balearic Islands and Italy, is a popular destination for cruise ships.
Car
For those travelling by car, the AP-7 runs north to south along the Mediterranean coast connecting the city with Barcelona and Malaga.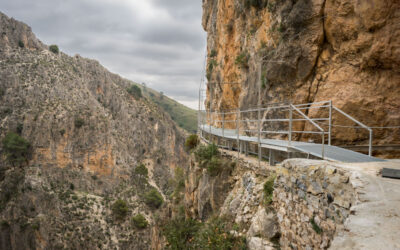 Sendero el Saltillo also referred to as the Caminito del Rey of the Axarquia is a sensational hike ending at a canyon with a series of waterfalls.
read more