Contributor to Google Travel Team
Proud to have contributed to Touring Bird with my Malaga tips. With this web-based travel app from Google's Area 120 (a workshop for experimental projects), you can explore, compare and book over 75,000 tours and activities from top providers.
As of October 2019  Touring Bird is folding into Google's travel team, where we'll continue to build great experiences for users.
Your content goes here. Edit or remove this text inline or in the module Content settings. You can also style every aspect of this content in the module Design settings and even apply custom CSS to this text in the module Advanced settings.
2018: Shortlisted Blog Award 2018 for my blog about Ferrol (Dutch version) by the Spanish Tourist Board in the Netherlands.
2018: Winner Unicaja Communicator Award for excellence in journalism. The winning article (in Dutch) talks about homeless people in Malaga.
2017: Featured as a Highly Commended Travel Blog! Selected out of a total of 700 travel blogs from around the world and only 250 of the very best made it on this page. Criteria were 7 different metrics including traffic volume, traffic value, SEO & social media engagement to score each blog.
2016 Longlisted for Proef Spanje Blog Award, Spanish Tourist Office in the Netherlands.
2015: Winner Gouden Haring 2015, Marbella Dutch Business Club, Spain.
2012: Proef Spanje 2012, Spanish Tourist Office in the Netherlands.
2011: Second place Proef Spanje, Spanish Tourist Office in the Netherlands.
2011: Blogparel 2011 for the best new blog in the Netherlands.
I travelled through 68 countries, lived and worked in 7. Currently in the United Kingdom.
Board (2018-2019) member of the Committee of the Costa Press Club in Spain and member of the Professional Travel Bloggers Association.
Qualified psychologist (Dutch master degree)
Economist (master)
Apertura Escuela de Fotografia, advanced certificate
Universidad de Málaga, Nivel superior C1, Spanish Language & Culture
The Statistics
Google Analytics
Monthly page views +20000 per month, with three-quarters of the readers reading the Dutch version of the blog.
And +4000 page views on this blog.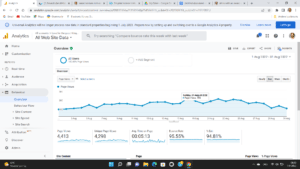 These numbers are based on Google Analytics:
Sex: 65% are men, 35% women.
Age: 18%  are between 25 – 34 years old, 60% between 35 – 54 years.
80% are Dutch/Flemish readers.
MOZ DA
The MOZ Domain Authority of the main Dutch site is 33. The (new) English site, has a DA of 10.
This means that new blogs have an excellent chance of ranking high.
Pinterest
On Pinterest, I receive monthly more than 99,000 unique views.
Successfully cooperated with


Social Media Influence
With an online presence of more than 10.000 followers on social media, like Facebook, Instagram, Twitter, LinkedIn, Google+ and a weekly newsletter we will ensure that your brand or destination reaches a diverse group of travel-minded readers.
RATE CARD
Sponsored items
Sponsored travel related items are accepted, these can either be supplied by you (original content only please) or written by me.
Sponsored no-follow link in an existing article: €150 for the duration of one year.
Sponsor supplied item with single no-follow link: €250, please supply for each piece at least two images.
I write the sponsored blog (500-750 words). The rate is €0.35/word after 750 words. The fee is €500 including a link. The blog will also be promoted on social media and in the weekly newsletter.
Product Reviews & Give Aways
I love to do travel-related products reviews and services on the condition that these are either helpful or attractive to the readers of this blog. Please understand that I will only write about products I really like. If you have a product or service that you would like me to review, fees are either in kind (depending on the value of the item) or there is an associated fee with it.
€250 – 500  per review – You can expect a blog with a review and a link to your website. Quality photos will be included as well as several social media mentions and inclusion in the weekly newsletter.
As part of the review a giveaway to the readers of this blog can be included in the package. The value of the product will be deducted off the fee.
Occassionally I will do a review (like books) for a substiantally reduced fee, depending on the item and the cause (non-commercial, sustainable issues, etc.).
Press or blog trips
Expectation requirements
All accommodation, transportation, activities and some meals to be included.
Free time built in to work on content, discover stories, interviews, photos, etc.
Depending on the type of trip, partner & family accompanied.
Deliverables
Depending on the length of the trip deliverables will include an overview story of the trip, typically 750-1500 words. This is an example of cornerstone content.
Depending on length of trip deliverables can include articles on unique experiences/attractions during the trip, these are typically shorter, around 500 words. Click here for an example.
All articles will be supported by quality photographs.
Several social media mentions during visit, and, to promote content once developed on social media and in newsletter.
Brand Ambassador
A brand ambassador is highly personal, depending on your needs, it is something that can be customized. However a minimum six month agreement is required. The ambassadorship should of course be relevant to travellers and be either helpful or attractive to the readers of this blog. Please understand that I will only write about products I really like. An ambassadorship typically includes:
Your logo on a prominent place on the blog.
Your logo on a prominent place in the weekly newsletter.
Mentions on social media bio and in the newsletter.
Reviews on the blog and social media.
Travel Photography
High quality images are either taken with a Canon DRSL or a Sony system camera. The images are processed using Lightroom I charge a flat fee for extended limited use of the image(s) purchased. In other words, you may use the images you purchase from me for as long, and in any way you like in perpetuity, i.e. print ads, website, social media, T.V., billboards, etc.
Rates
Single image 300dpi in jpg, 100% quality  €100 per image
Series depending on size have a reduced fee.