Haliç Metro Stop Istanbul
Istanbul city break
Istanbul, wow, what a city! Everything comes together in this metropolitan. Europe and Asia, East and West, Islam and Christianity. The city is in almost everything but name the capital of Turkey. Though not the seat of the government, the metropolis serves as the country's economic, cultural and historical centre. With nearly 16 million inhabitants, it is the country's largest city. In fact, nineteen per cent of Turks live in Istanbul. A megacity. Or, actually, it feels more like an anthill.
The city is bursting at the seams. People everywhere, stores, honking cars, buses, stalls, terraces, restaurants and steep streets. One can spend days, weeks or even months getting to know the area. On the other hand, a week's stay is enough for most people. At least for a country girl like me, the hustle and bustle sometimes feel overwhelming.
Istanbul, where East meets West
The city literally and figuratively forms the border between Europe and Asia through the Bosphorus that runs through Istanbul. This strait meets the Sea of Marmara to the south and the Black Sea to the north. As a result, the European part of the city feels primarily western (secular) in terms of people, stores and restaurants.
East side of the Bosphorus
On the east side of the Bosphorus, the clothing, the architecture, and the art do not feel entirely Western, but neither does it feel one hundred per cent Eastern. The co-existence of different lifestyles often creates tension in other countries, but not here. At least not apparent to the casual visitor. The city is truly a melting pot of cultures.
What amazes me most – not only in Istanbul but also in other places in Turkey – is the love for the often gigantic street dogs. Dogs, despised by many Muslims (because they are considered unclean), are treated with kindness here. In most countries, stray animals are taken off the streets, whereas Turks put food and water out for them (source).
Istanbul city break
The city feels hospitable and friendly. And although the price difference in Istanbul compared to smaller places in Turkey is large, it is probably the same for Turks as for the average tourist. Moreover, it matters where you shop. On the busy downtown shopping streets, a piece of fruit can easily cost four times as much as in a small store a few streets away. So even if you pay the Turkish top price, prices here are still much lower than in most Western countries.
Most Turks are exceptionally friendly to us. And in a megacity like Istanbul, that surprises me. Because in other big cities, as a tourist, I often feel like a cash cow. I don't get that sensation here. Even though our conversations with most Turks are primarily made via Google translate. We use our cell phones, as English is still little spoken. It works surprisingly well.
Turkish hospitality
Turkish hospitality is everywhere. The greengrocer gives me an apple for free because I don't want to buy a whole kilo. A lady selling baklava includes some extra goodies for free with our purchase because her husband once lived in Holland. 
All alarm bells go off when two young men volunteer to assist us, a middle-aged backpacking couple, in buying a metro card. But with no easy alternative, I decided to trust them. The men take us to the right subway platform, pay for us and tell us where to get off. They are gone before we get a chance to pay them back.
Even more impressive is that tourists are generally not harassed, as in many other tourist spots. Very few pushy guides or other hustlers trying to sell something.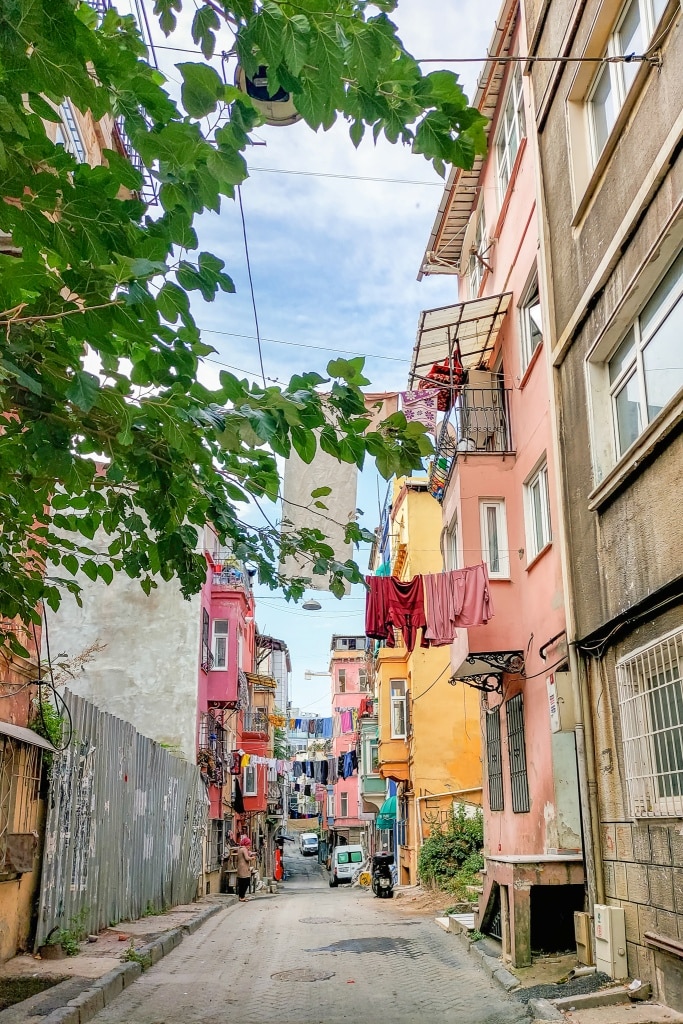 Turkish cuisine
The hospitality extends to the table, where one can taste the influence of different cultures. For example, salads and mezze, such as in the Middle East or Greece, are excellent choices for vegetarians. Kofte and giant kebabs take care of the inner carnivore. And, of course, there is plenty of fish to be had in a place surrounded by water. Turkish breakfast is divinely delicious. It consists of several dishes. Yoghurt with honey and jam, bread, olives, cheese, dates, olive oil, tea, eggs and whatever else the restaurant owner comes up with.
Divine Baklava
Baklava is available on every street corner. Judging by the number of stores selling this and other sweets, it is a miracle – Allah be praised – that not all Turks weigh at least a hundred pounds. But honesty compels me to say that I like the Lebanese baklava better than the Turkish because they have less honey and more nuts.
Istanbul sights
If you want to explore to most important sights, start with the Fatih district. You will find the Ayasofya, Blue Mosque (Sultanahmet Camii), Grand Bazaar, Basilica Cistern (Yerebatan Sarnıcı) and Topkapi Palace here.
Topkapi palace complex
Topkapi is the most famous of all the sights in Istanbul. The 15th-century palace complex attracts crowds of tourists. Fortunately, it is enormous. The masses disperse as soon as you pass the lines at the entrance. The Hamam is the most intimate and interesting part of the complex.
Order entrance tickets online to avoid the worst crowds.
Ayasofya & Blue Mosque
The vast queue at Istanbul's two most prominent mosques looks auspicious. Yet both the Ayasofya and the Blue Mosque disappoint me. I don't find the buildings that interesting. Perhaps I am too spoiled after seeing the magnificent Mezquita in Cordoba. But if time is on your side, check them out. Otherwise, skip them in favour of other sights.
Appropriate covering attire is required. That means no shorts/skirts/sleeves, and women must cover their hair. On the plus side, admission is free.
Basilica Cistern (Yerebatan Sarnıcı)
Not as well known nor as crowded as many other Istanbul attractions is the Basilica Cistern. This is the lowest point of my visit to Istanbul, as it is underground. Still, it is the highlight of my visit.
The Byzantine emperor Justinian I built this enchanting underground water reservoir (527-565). The marble columns and statues stand in reflecting water.
Tickets can be ordered online.
Grand Bazaar
The Grand Bazaar is another super busy place frequented by the inhabitants of Istanbul and tourists alike. The bazaar is located in the Fatih district near the Ayasofya and the Cistern. It is one of the world's largest, oldest, and still functional markets. The complex has 61 covered streets and more than 4,000 stores selling clothes, carpets, jewellery, pottery, lamps, sweets and spices. The bazaar attracts up to 400. 000 visitors daily.
An earthquake, terrorist attack or fire is guaranteed to produce thousands of casualties because there is no easy way out of this maze.
But then again, the most significant risk of living is dying. So do it anyway because this is where Istanbul's pulse beats the loudest.
Basilica Cistern (Yerebatan Sarnıcı)
Istiklal shopping street
The 1.4-kilometre-long Istiklal in the Pera district is Istanbul's premier shopping street. This is the place to stroll along together with 16 million Turks. At least, it feels that way. But especially on Sundays, it tends to get extremely crowded. And that makes it a prime spot for an attack. On Sunday, November 13, 2022, a terrorist attack occurred with dozens of victims (source).
Dolmabahçe Palace
Dolmabahçe Palace is located in the Beşiktaş district on the European coast of the Bosphorus, which boasts 285 rooms, 46 halls and six hamams. Six sultans inhabited the palace from 1856 until the abolition of the caliphate in 1924.
Again, the lines for ticket sales are impressive. So buy your ticket in advance online.
Galata Tower
The Galata Tower is a medieval tower in the Galata district. From the roof, one has a panoramic view of Istanbul's surroundings.
To skip the line, buy tickets online.
Practical information visiting Istanbul
Check prices or book a flight to Istanbul here.
Compare prices of hotels in Istanbul.
For public transportation, purchase the Istanbul Card to use local buses, streetcars, subways and ferries. The cards are available from vending machines at most metro stations.
If your phone has a dual sim slot, purchase a Turkish pre-paid sim card so you can roam on the go. Preferably Turkcell, which has good coverage.
Withdrawing cash from cash machines is expensive. Be prepared to pay a hefty commission. Try to pay as much as possible by card, preferably in Turkish Lira when given a choice.
De Marmitte dei Giganti in Pesaro-Urbino One of the most spectacular pieces of nature in the Marche can be found near the town of Fossombrone in the province of Pesaro-Urbino, where emerald-green water flows through a steep canyon. Over thousands of years, the Metauro...